Best penis size
An 8 inch penis makes more women orgasm
Spoiler alert
Size does matter but bigger is not always better.
We surveyed 4,761 women across our entire dating network, this includes general dating, casual dating and many more niches to ensure we had a good representation.
We asked:
The last time you had sex:
How big was his penis?
Did you orgasm via penetration?
Armed with this huge data set we can now compare orgasm success rate with penis size. These are averages and there will always be exceptions. If he doesn't measure up he can still deliver and equally, if he's massive he can still disappoint! The infographic below will help you get up to speed.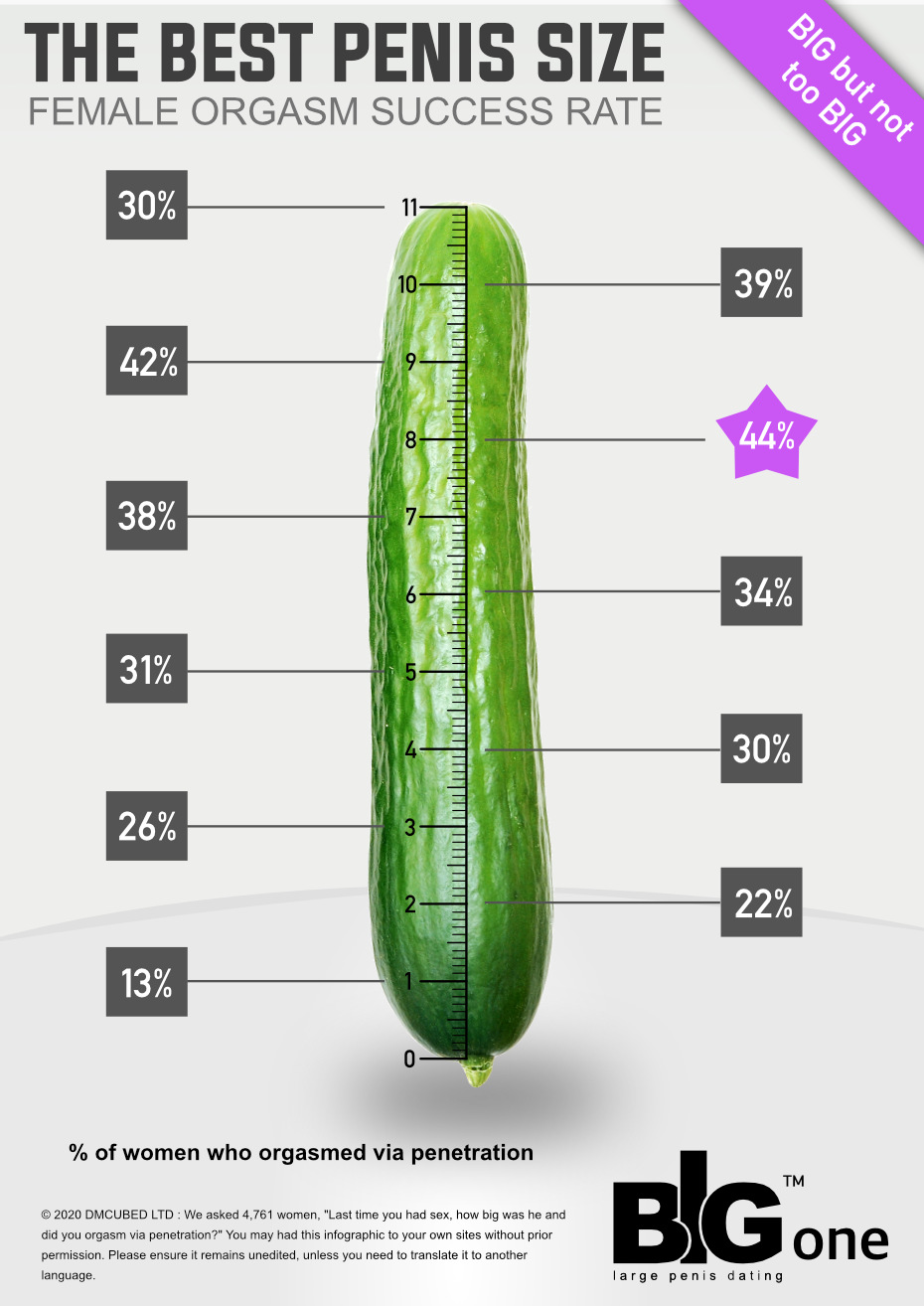 Copy and paste the following code to add our best penis size infographic to your website or blog.
Best penis size video
The results
The table below correlates penis size with percentage of women who orgasm during penetration.
| Penis size (in) | Penis size (cm) | % of women orgasmed |
| --- | --- | --- |
| 1 inch | 2.5 cm | 13% |
| 2 inches | 5.1 cm | 22% |
| 3 inches | 7.6 cm | 26% |
| 4 inches | 10.2 cm | 30% |
| 5 inches | 12.7 cm | 31% |
| 6 inches | 15.2 cm | 34% |
| 7 inches | 17.8 cm | 38% |
| 8 inches | 20.3 cm | 44% |
| 9 inches | 22.9 cm | 42% |
| 10 inches | 25.4 cm | 39% |
| 11 inches | 27.9 cm | 30% |
The graph below plots these results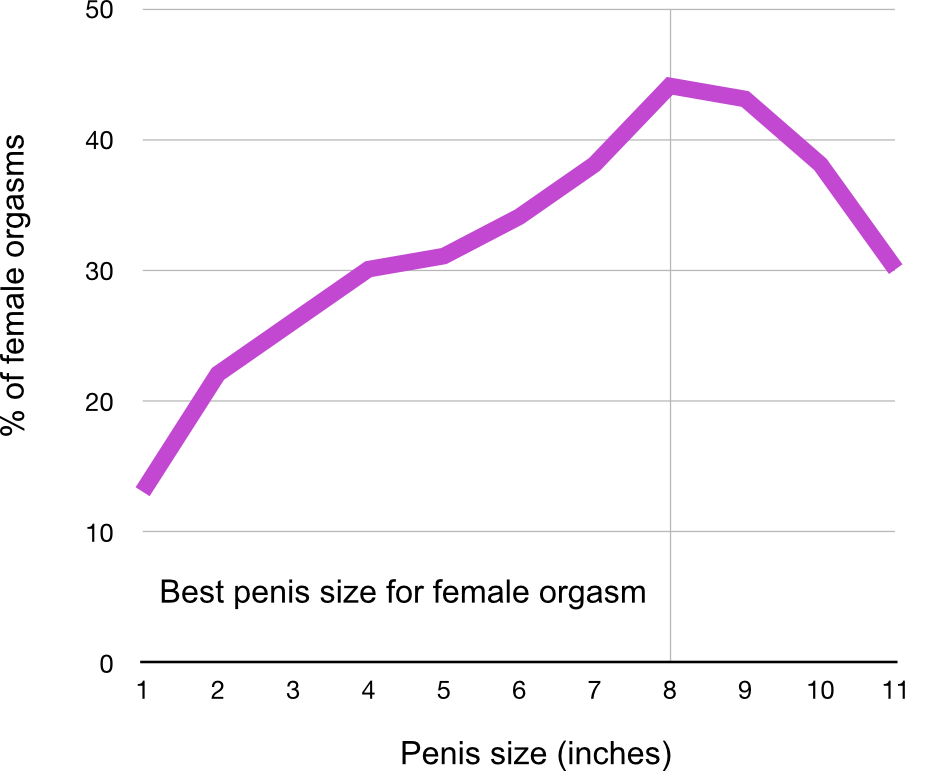 The right size
Bigger is better? Well NO! Our female participants would suggest otherwise. The best penis size for her to climax is 8 inches, any bigger and the orgasm rates drop.
A man with a gigantic penis size of 11 inches aids 30% of women to reach orgasm which is the same as a man with 4 inches.
Technique is still required
An erect penis size of 3 inches or below is considered a micro-penis, but even at 3 inches a quarter of women still orgasm, and more than 1 in 10 men with 1 inch still hit the spot. Our survey suggests the 8 inch guy has the easiest task but whatever your size you still have the potential to satisfy your partner.
What about width/girth?
From comments during our survey a large number of women said that girth (width) was very important.
Kate from London, UK said, "Six inches in length is more than enough for me as long as his c**k is thick."
In general, as penis length increases so does width, therefore the average girth of the 8 inch penis will be a contributing factor.
What's 8 inches?
If you don't have a ruler to hand and want to get a feeling for 8 inches (20.3 cm) then the following are all about 8 inches in height/length.
The width of A4 paper
Kindle fire HD
Good sized TV remote control
Quotes from our participants
I discovered that size does matter and now I'm hooked F, USA, Lawrenceville 27
Penis size is important, but knowing how to work it and wanting to please her trumps over anything else, F 37, USA, New Orleans
Size does help but you definitely need to know how to use it. Plenty of wasted big dick out there. 38 F, UK, Harrow.
I prefer penises that are thick and long. However, I do value girth over length. F, 26 Roanoke USA
Summary
Guys, you know your size and you probably have a good idea of your skill level. Use the data to see how you compare. Don't forget that any size works with the right technique!
Women, if you want to put our survey data to the test you know what to do! Sign up today.